"Every time I leave the audio industry, I find I can make alot more money...
but I just don't enjoy getting up in the morning."
- Drake Philbrook - 1983
He won't go away! I guess that means we're stuck with him. To find out what we're in for, take a look inside the creative world of Drake Philbrook, the CEO of Sprocket Development International.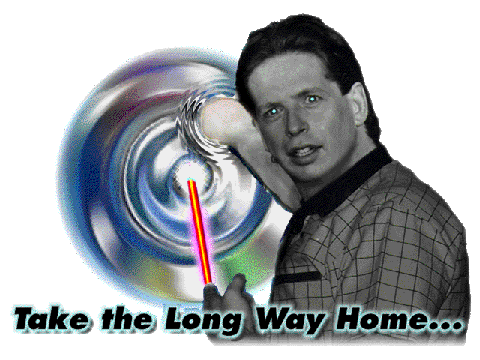 ---
Drake Philbrook - The Artist
Drake's creative passion stems from his lifelong love of music. He is an accomplished musician, producer and audio designer. His artistry has helped entertain people around the world. Drake's accomplishments include:
Record Producer / Digital Editor
Artist: The Greg Khin Band, Title:Un-Khin-Trollable
©1989 by Rhino Records, Catalog #R2 70932
Rock & Roll!!! Recorded live at a popular rock club in Marin County, CA.


Artist: Eric Doney, Title:The Piano
©1992 by Pacific Street Records, Catalog #PSR-0011
Compositions for Piano Recorded Direct to Digital at Mad Hatter Studios, Hollywood, CA.
Digital Recording / Mastering Engineer
Artist: Phil Woods Quintet, Title:Full House
©1992 by Milestone Records, Catalog #MCD-9196-2
Be-Bop at its best... Recorded live at Catalina's Bar & Grill, Hollywood, CA .


Artist: Chris Bennett, Title:Chris Bennett
©1993 by Beachwood Recordings, Catalog #2506-2.
Contemporary Jazz Vocalist.
Television Sound Effects Designer / Editor
1988 Star Trek - The Next Generation - Sound Effects and Dialogue editing in association with Modern Sound, Hollywood, CA.


1988-89 - Sound Effects Desing and Editing of Nationally Aired Commercials for Budweiser, Coors, Chevrolet, Toyota, Pinnacle Golf, Magic Mountain, Taco Bell, and many others.
Touring Concert Musician
Member of several groups during the '60's, '70's and '80's, including; 'Tangerine', 'Chain Reaction', 'Blitz', 'Dr. Hobbes', 'Masque', 'The Drake Philbrook Jazz Quintet (Featuring Harry the Hipster)', and 'The Bop'. Shared venues with headliners including; The Allman Brothers Band, Cheap Trick, BB King, Rare Earth, and many more.
---
Drake Philbrook - The Computer Scientist and Product Designer
---
It has been over ten years since Drake Philbrook put down his guitar and joined the founding partners of Mellotron Digital Corp. Since those early days, Drake has continued to focus on the development, refinement and use of high-end digital audio systems, as evidenced by the prolific body of work listed below.

Drake has become one of the most highly respected design consultants in the pro-audio industry. This year, Drake's most recent project, the Apogee™ MasterTools™ Plug-In, was nominated for the Mix™ Magazine TEC Award.
A brief look at what Drake has been up to in the last 20 years
---

1988 / Present - President of Sprocket Development International & DSP Software
General Consulting and Contract Development for just about everyone in the audio industry.
Oh, yeah... we make our own stuff, too!

Project Summaries:
1994/96 - Apogee Electronics, Inc.- Design and implementation of the MasterTools DSP plug-in package for Pro-Tools. This design includes both user-interface, low-level driver design, and Pro-Tools TDM interface.

1992/94 - Lexicon, Inc.- Design and implementation of a software program to control their NuVerb NuBus audio processing card and M300 Reverb unit via MIDI and their NuVerb Reverb unit via NuBus I/O. This design includes both user-interface, low-level driver design, and Pro-Tools TDM interface.

1991/93 - Studer Editech - User-interface design and implementation of MacMix 4.0 for Studer Editech. Design and implementation of Record and Playback firmware for Dyaxis II.

1991 - Timeline- Design and implementation of a 'Programmers ToolBox' to interface Timelines product line to the Macintosh. A CMX compatible Edit Decision List management application built on top of the ToolKit.

1990/91 - 360 Systems - Designed and implemented the firmware for the DigiCart. Developed romable multi-process, interrupt driven system for controlling all aspects of real-time digital audio recording, editing and playback to SCSI devices using the OS-9 operating system running on a Motorola 68020. This project required extensive modification and optimization of the OS9-68K operating system.

1990/91 - Studer Editech - Software user-interface design and implementation of real-time parametric equalization routines and interfaces to a Motorola 56001 on a Macintosh NuBus card for Studer Editech. Design and implementation of the Dyaxis Event Editing module.

1990/93 - Panasonic - Design and development of a 'Programmer's ToolBox' for implementing hi-speed serial communications between Macintosh and MS-DOS computers and the Panasonic SV-3900 Digital Audio Tape Recorder using the ES-Bus protocol. Ongoing technical support of the ToolKit.

1990 - Yamaha - Developed an MS-DOS software program that interfaces the Yamaha DMP-7 digital audio mixer to various video-editing systems. This project required translating high speed (38.4 kBaud) serial data to MIDI commands for controlling all parameters of the DMP-7.

1988 - Integrated Media Systems - Retained to develop the film, television and radio markets for the Dyaxis, a Macintosh based digital recording system developed by Integrated Media Systems (Studer Editech, Inc.) in the Greater Los Angeles area.

Placed systems with Modern Sound, Paramount Pictures, Weddington Productions, Gannett Broadcasting, Legacy Broadcasting, and several other major production houses. This market penetration was instrumental in Studers' acquisition of IMS in 1989.

1988/96 - In House - Developer of Sprocket Development Internationals product line including Track-ItÅ, a Macintosh based software package that manages dialog and sound-effects editing for film and television production. This project required the design, development and testing of the following software sub-systems on the Macintosh using C, assembly and object-oriented-programming methods:


Interrupt service routines for MIDI I/O and time stamping with sub-millisecond accuracy
SCSI routines for direct block-level disk I/O
MIDI system-exclusive protocol specifications for third-party peripheral devices
B-tree management system for maintaining balanced B-tree structures in RAM
Macintosh trap modification for the implementation of multi-palette window management
A Complete rewrite of the public-domain Dyaxis hard disk recording system driver to improve performance and implement real-time punch-in to existing files
An internal MIDI timecode generator requiring direct manipulation of the Macintosh VIA timer chip


1988/89 - Music Animals - Designed the networking and control systems for Music Animals 5-studio digital recording complex, including:


Design and implementation of high-speed data transfer systems for audio, digital audio and video, including an automated switching matrix in a central machine room. This required the development of a control program called Patch-ItÅ for the 360 Systems AM/16-B Crosspoint switching matrix;
Two bridged Macintosh/IBM PC networks utilizing an active-star topology, Appletalk, DaynaTalk and Ethernet;
A Multi-user database for tracking royalties for General Hospital in FoxBase+/Mac (dBase), utilizing FoxBase's FoxCode development language.
Negotiations for the acquisition and funding of nearly three million dollars of capital equipment.
---

1982-88 - Vice President / Director of Product Development for Mellotron Digital Corporation
The Mellotron was the first musical instrument to play recorded sounds. It had a distinctive sound that was popularized by The Beatles, The Moody Blues, Genesis and countless others.

Responsibilities and accomplishments include overall product development of computer/music software and digital-audio hardware products, development of European sales distribution, recruitment of other top industry professionals to fill key positions, and company-wide trouble-shooting in the sales and engineering departments.

Author of various software products including;

The Virtual Instrument User InterfaceÅ utilizing high-resolution graphics and touch-screen technology;
A complete multi-user in-house order entry database on the Macintosh which included customer and technical support tracking, automated inventory control, and dealer/rep billing and commission reporting implemented on a Wide Area Network;
Various MS-DOS and UNIX based digital audio signal processing routines;
Low-level RS-422 and SCSI drivers, interrupt service routines, 68000 operating system for digital-audio.
---

1979-81 - Director of R&D for Advanced Technology and Research, Inc.
Specializing in lightweight aircraft interior design.

Developed and patented the first all composite (fiberglass and graphite) aircraft seat to receive FAA approval under contract with Cessna Aviation.
---